Solar Sollew
Where they never have troubles, at least very few...
As the first of the Positive Footprints 9 star series to be constructed, Solar Sollew was envisioned as a synthesis of our experience in practical cost effect sustainable design & construction, to produce a truly low impact mainstream offering.
The scope of works was for a 9 star, highly energy & water efficient, 3-4 bedroom family home with ground living and master suite, achieving at least a Gold level in the Living Design Guidelines, providing housing flexibility for the homeowners as they progress through the various stages of
home life, with flowing spaces and wheelchair accessability to the ground floor.
Materials throughout were sourced for their environmental and health credentials and made features in the internal fitout.
New cutting edge sustainable technologies were also included:
Earth tube cooling
Phase change thermal mass
Recycled glass polished eco concrete slab
Electrical Building Control Management System (by MacTech) to automate and make "active"passive systems
Landscaping was designed to showcase water efficient food production in the suburbs, mixed with indigenous plantings to increase original habitat.
In summation, the Solar Sollew is an holistic example of modern sustainable living.
Download info sheet to find out more about Solar Sollew
Publication - "High Achiever", Sanctuary Magazine Issue 30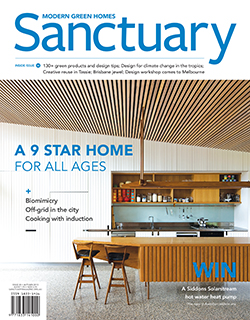 Here's a Video taken at Sustainable House Open Day, discussing many of the features of the home.
Awards
BDAV 2015 Design Award - The Best Energy Efficient House
BDAV 2015 Design Award - The Best Use of Bricks
BPN Sustainability Award 2014 for New Dwelling - Finalist
Photo credits: Simon Black and Nick Stephenson